Online Truck Dispatch Training
A truck dispatcher job is a great opportunity for people who love working with cars and trucks, and want to make their own schedule. Trucking companies have become increasingly dependent on the efficiency of their dispatchers. This means that it's easier than ever to start your own business as a dispatcher.
The first step in starting your own business as a truck dispatcher is to get some training. Training will provide you with skills that can help you get started in this field, such as how to use computerized dispatch systems and how to communicate effectively with drivers on the road.
There are a lot of online truck dispatch training programs that can help you get started. Some of these are free, while others will cost. The next step in starting your own business as a truck dispatcher is to start networking with other dispatchers in the area. You can find them on Facebook and LinkedIn groups, at industry conferences and conventions or even by contacting local trucking companies directly.
Benefits Of Online Truck Dispatch Training
There are many benefits to taking online truck dispatch training. First, you can do it at your own pace and in your own time. This means that you don't have to worry about missing out on any of the classes because you have a busy schedule or other commitments.
You can also learn at home without needing to travel to a physical location. Online truck dispatch courses come in many different formats and styles so that everyone can find something they like.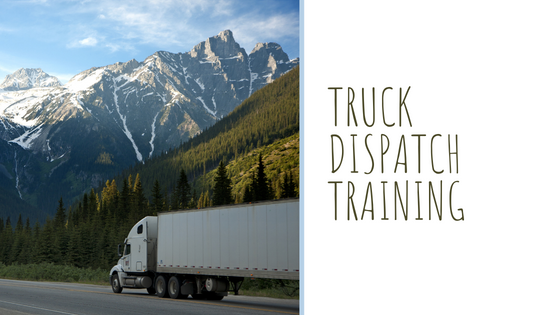 You don't have to worry about missing important information or forgetting what you learned because it's all available whenever you need it. Online training also makes it easier for you to review the material so that you feel confident about what you know before moving on to the next lesson.
What Are The Responsibilities Of A Truck Dispatcher?
A truck dispatcher is responsible for coordinating the movement of trucks and their cargo. They must know where every truck is at all times, as well as its location in relation to other trucks. They also need to be able to communicate with drivers and coordinate with dispatchers at other locations. Truck drivers rely on their dispatchers to tell them where they need to go and what they need to do once they get there.
They should be able to quickly and effectively communicate this information so that the driver can get on their way. In addition, a truck dispatcher must know when each truck is due in at its destination, and how far away from it is at any given time. This allows them to inform drivers about delays and detours.
Conclusion
The job of a truck dispatcher is not an easy one. However, it is an important one that can be very rewarding for the right person. It requires a lot of organization and attention span, as well as good communication skills both written and verbal.